Physical Examinations
---
An Exam will assess:
Body temperature
Respiration rate
Heart rate
Mucous membrane colour
Skin condition
Weight
Oral exam
Ear/eye exam
Chest auscultation
Abdominal palpitation
Lameness
Lymph node assessment
Discussion of health status
Any other problems
Preventative Care
---
Taking steps to prevent problems is the best way to take care of your furry friends. Regular check-ups will help reduce the risk of complications and give you peace of mind during the life of your pet.
We can keep an eye on your pets health by:
Doing annual vaccinations
Ensuring strict weight management
Regular blood work
Urine analysis
Fecal exam to check for parasites
Behavioural problem discussion
Nutrional counsultations
Diagnostic Procedures
---
Dr. Slav and the staff at Harbourfront Animal Hospital will use all the tools at their disposal to determine what's wrong with your pets.
This includes:
Blood chemistry: kidney function, liver, pancreatic diseases, metabolic diseases, electrolites, hormone levels
Complete blood count: to check for anemia, blood parasites, infection and other blood related conditions
Urinalysis: to check for urinary infection, metabolic diseases, kidneys ability to concentrate urine
Radiology (X-ray): full body and dental
ECG-electrocardiography: to record the heart activity
Ultrasound: heart disease, abdominal masses, others.
Referral Services
---
Dr. Debski works very closely with veterinary medicine specialists. These are experts in internal veterinary medicine, surgery, ophthalmology, dentistry, neurology, neurosurgery, behavioural issues, and cardiology.
You can learn more about individual specialists here:
Theraputic Laser Treatment
---
No pet owner wants to see their furry family member suffer from muscle and joint pain. Ask our doctor and staff how Laser therapy might help to alleviate your pet's pain.
Have you noticed your pet slowing down and having trouble with everyday movement? Laser therapy may provide a solution to your pet's muscle and joint soreness.
As your dog ages the probability of arthritic pain increases greatly. At ages eight to ten 27% of dogs suffer from arthritis. The numbers incresase to 37% for dogs eleven to thirteen years old. If you have noticed signs of your dog slowing down, this may be due to joint and muscle pains common in arthritis. Laser therapy could help ease your furry family member's pain.
It is difficult to diagnose arthritic pain in cats. This is due to the stoic nature of your furry family member. If you have noticed your feline friend slowing down, having problems reaching the litter box, or isolating themselves from the family, pain may be the issue.
Key Benefits of Theraputic Laser Treatment:
To reduce pain
Reduce inflammation and speed healing
Drug free
Surgery free relief for your
No-needle acupuncture
Surgeries
---
Elective: Spay, neuter, benign masses removal, excessive eye stains removal procedures, tear duct flush, entropion eye surgery in dogs (Dalia, Margaret's dog, had her eyes done. See before and after surgery pictures below.)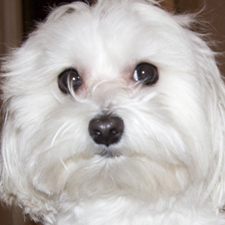 Non-elective/emergency procedures: Gastrointestinal problems, foreign bodies, abdominal masses, bloat & gastric torsion, stones removal
Cryosurgeries: Using liquid nitrogen to remove small skin masses ie; skin tags